Celebrating Time And Relative Dimensions In Space!
---
You will find all postings of our previous episodes of Doctor Who: Podshock prior to episode 148 on our previous website where they are archived. Use the link before to find them.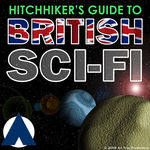 Hitchhiker's Guide to British Sci-Fi - Episode 4
Running Time: 1:00:48
Red Dwarf: Back to Earth reviewed, Life on Mars, Ashes to Ashes, Blake's 7 Audio Books, Torchwood, Paul Cornell's Captain Britain, and feedback from Miles Imel and Mark Goodacre.
Hosted by Louis Trapani, Ken Deep, and James Naughton.
"Is it usual for a host to kill a guest?"
Outpost Gallifrey Presents:
Doctor Who: Podshock - Episode 148
Running Time: 1:34:45
Review of the Four to Doomsday DVD, news, feedback from Jim E. Oconner, Don, James, Lela, Fox, Bruce Strong, Ralph, Mike, Kent, Eugenia & Gerri, and Ian Chesterton.
Hosted by Ken Deep, James Naughton, and Louis Trapani
Once again, the Gallifreyan Embassy website has regenerated. This is sort of the Jon Pertwee version of our site (give or take), as it is essentially our third incarnation of the website.
This new site is still being developed while our previous site remains operating and functioning as it had been since the last regeneration (2005). Eventually, we will migrate here as our default site while keeping the previous site as-is for archival purposes.
NOTE: If you have an existing account from our previous site, it will need to be re-created here.
While content is being moved to and being developed here on our website 3.0, please access our previous site for the past four years worth content.